Completed Projects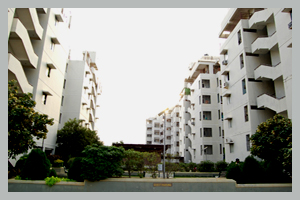 Srila Towers located on main road Hydernagar, Kukatpally, spread over 3.50Acres comprising of 300 Flats having built up area of about 3,50,000 Sft.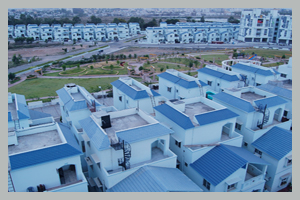 Srila Park Pride situated close to Hafeezpet Railway Station, spread over 27.0 Acres of lush green landscaping comprising of about 400 Duplex Houses having built up area of more than 8,00,000 Sft.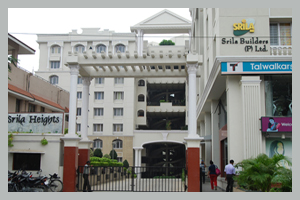 Srila Heights a landmark building in Secunderabad stands majestically on main road East Maredpally, comprising of 82 Super Deluxe Flats out of which 24 flats have private gardens. Spread over 2,00,000 Sft with lot of recreational and play facilities, two level parking. 20,000 Sft of Commercial area Housing Food Bazar and Talwalkar's Gym.
OnGoing Projects
Srila Residency situated on Miyapur Main Road, Opp Dr. Reddy's research foundation. The Project is spread over 2.0 Acres, 17 Floors of 168 Three Bedroom deluxe flats, including 3 level parking having Club House and various other Amenities.
Srila Mall situated on the prime commercial area of Nampally Station Road, Abids adjacent to G. Pullareddy Sweets. In 3300 Sq Yds about 70,000 Sft spread over 4 floors of pure shopping bliss in ultra modern ambience.
Srila Mansions situated close to L B Nagar -X- Roads having Two & Three Bedroom deluxe flats.
Srila Plaza situated at Madhapur having 25,000 Sft of prime commercial space with two level parking on 1160 Sq Yds.
Upcomming Projects
In about 3.0 Acres a blend of Residential and Commercial Project close to Wipro, Virtusa and Deloitte.
Residential Project in 2.0 Acres situated on road leading to temple Alwal behind Ramaraju Nagar adjacent to Lloyla College.
What makes SRILA different?
Sample text 1 Sample text 1 Sample text 1
Sample text 2 Sample text 2 Sample text 2
Sample text 3 Sample text 3 Sample text 3
Sample text 4 Sample text 4 Sample text 4
Sample text 5 Sample text 5 Sample text 5
Sample text 6 Sample text 6 Sample text 6
Sample text 7 Sample text 7 Sample text 7
Sample text 8 Sample text 8 Sample text 8
Sample text 9 Sample text 9 Sample text 9